Custom Programs

Partner with us to deploy custom solutions that produce impact and promote fit-for-purpose growth for groups, teams, and organizations. Parsons' unique design-led approach to addressing challenges works at the system level, where more narrowly focused solutions often fail.
Co-creation Development Process
Our faculty of content strategists and subject-matter experts collaborate with your team to create a custom curriculum. Team members participate in interactive workshops that simulate the classroom environment, in which they can guide the development of bespoke content and delivery methodologies. Our goal is to maximize the relevance and effectiveness of your learning experiences to suit your organization's culture and way of working.
All custom solutions are informed by our analysis of your organization's state, needs, and desired outcomes. These solutions reflect the latest in design and adult learning research, perspectives, studies in design-led strategy, tool kits, and frameworks and feature engagement with our world-renowned faculty and network of subject-matter experts and industry innovators.
Whether your organization is a start-up or a large enterprise, we can design and deliver the right custom learning experience for your organization. We do that by building your internal capacity to identify and manipulate the drivers and levers of change and to unlock Return on Design for enhanced performance and resilience, improved customer experiences, and cost-saving efficiencies.
Our Process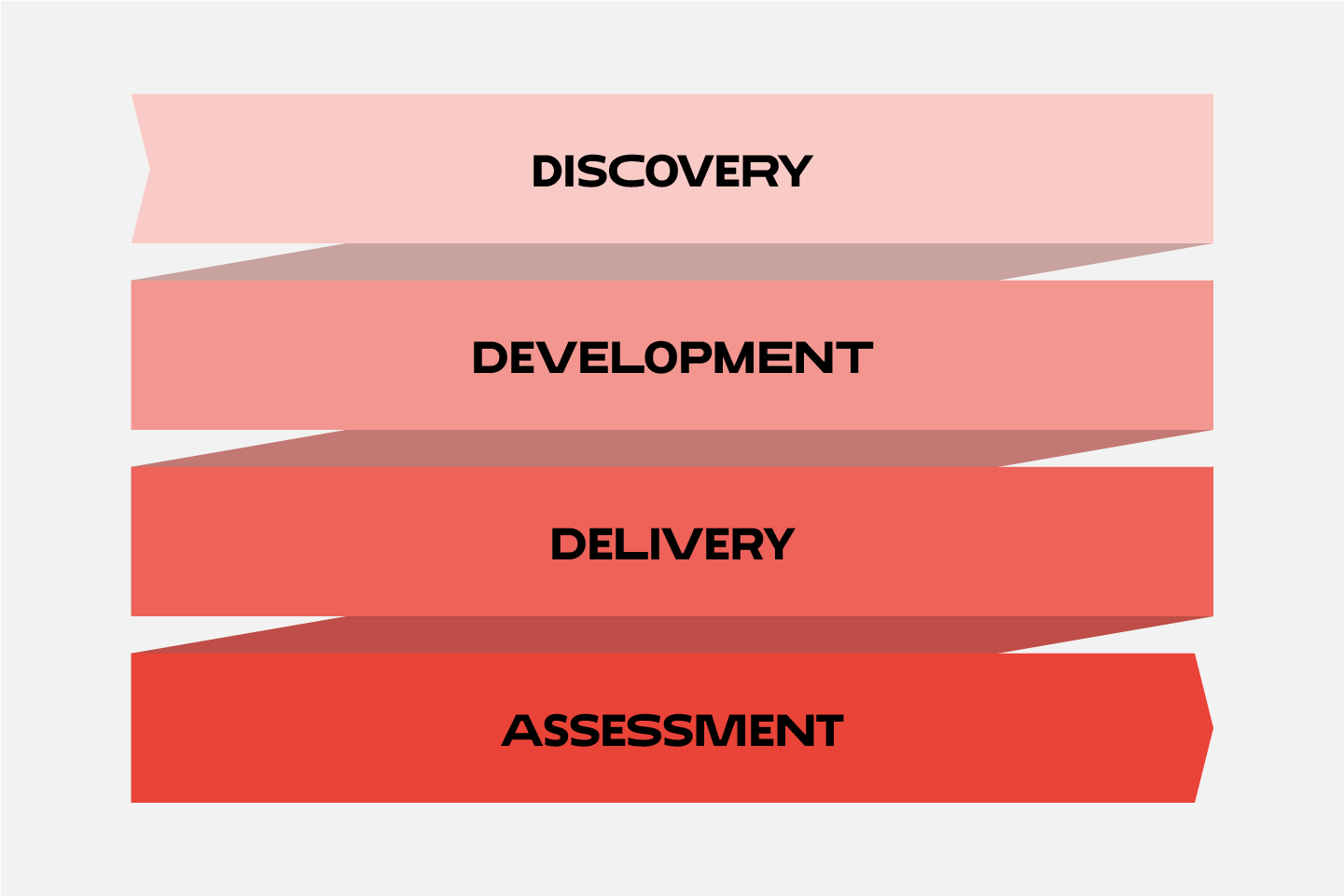 Discovery
Employing Parsons Executive Education's user-centered inquiry approach, we conduct a thorough assessment of your organization's needs and goals to develop a roadmap for transformation that outlines the program's scope, timeline, and outcomes.
Development
Using our proven methodologies, we create a program tailored to your organization's unique requirements. Together, through in-depth consultations and an iterative process, we develop innovative learning solutions that address your organization's needs.
Delivery
Participants dive into an immersive learning experience, deploying bespoke tools that produce transformative outcomes. Throughout this process, we work closely with your leadership team to ensure the progress and effectiveness of the program.
Assessment
Throughout all phases of development, feedback loops inform our mixed-method approach to evaluating the impact of our collaboration at both the individual and the organizational levels. Employing a holistic evaluation process allows us to build a knowledge base for future engagements with your organization.
Design-Led Approach
Our insight-based, design-led approach trains your team to "think different." By approaching challenges with a design mindset, team members learn how to drive innovation using observation, data, and proprietary methodologies.
World-Renowned Faculty & Industry Innovators
Each program is guided by subject-matter experts whose knowledge aligns with your learning objectives and strategic goals. Using hands-on, applied learning techniques, team members learn how to leverage design-led methodologies to solve problems, innovate, and generate results that matter.
Design a Custom Program
Connect with us to discuss your organization's needs. A member of our Client Services team will be in touch.
Contact Client Services